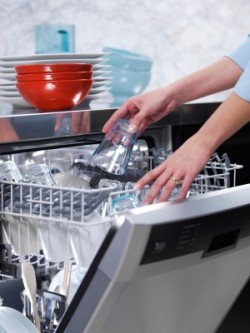 From leaking all over the floor to simply not getting your dishes clean anymore, there are a number of issues that can develop with your dishwasher. But when you have Wagner Appliance Repair Service on your team, a malfunctioning dishwasher isn't the end of the world—our professionals are ready to help you get the dishwasher repairs you need to get your appliance back in peak working order. Even the best dishwasher can break down, but that doesn't mean it's necessarily time to shell out for a new one. Save money and hassle with affordable, effective dishwasher repairs from Wagner Appliance Repair Service. Let our experts get your dishwasher repaired today!
At Wagner Appliance Repair Service, we service dishwashers from a full range of brands and manufacturers, so no matter what make or model you have, our team should be able to help. From GE dishwasher repair to Maytag dishwasher repair, our professionals can troubleshoot and diagnose the problem before providing careful, complete repairs. So whether your door gasket is leaking or your water inlet valve is fried, we can locate the problem and take care of it ASAP. Call or e-mail our team now to get the professional dishwasher repairs you can count on.
Serving the homeowners of Shawnee and the surrounding communities, our dishwasher repair specialists have more than 25 years of experience in the business, so you can trust us to have the knowledge and experience required to address just about any dishwasher issue with precision and ease. Whether you need a simple dishwasher rack repair or more complicated electrical work or part replacement, we've got what it takes to get the job done right. At Wagner Appliance Repair Service, we even offer emergency dishwasher repair service so we can provide you with the help you need when you need it. And unlike some appliance repair companies, we make punctual arrival a priority, so we're not wasting your time waiting on our technicians to arrive. Combining superior customer service, quality dishwasher repairs, and unbeatable value, we're the appliance repair experts that are here to take care of you as well as your dishwasher!
If you're in the market for professional dishwasher repairs, Wagner Appliance Repair Service is the team to call. Contact us to get started!