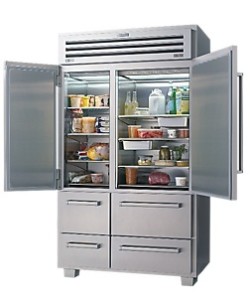 Whether your refrigerator feels more like a cool spring day than an icy winter chill or the contents of your freezer seems to be melting, it's important to act immediately for all refrigerator repair issues. Putting off calling in the pros can lead to bigger problems—and hundreds of dollars of spoiled food. So if your refrigerator or freezer is acting up, don't wait to call. Wagner Appliance Repair Service is your refrigeration repair expert in Shawnee and the surrounding area!
Servicing most major brands, Wagner Appliance Repair Service offers refrigerator repairs for just about any make and model. That means whether you're looking for Maytag refrigerator repair or GE refrigerator repair, you're in luck. Our experienced professionals have been in the appliance repair business since 1987, and we put that expertise to work for your refrigerator repair service. From careful troubleshooting to educated diagnostics to precision repair workmanship, our team goes above and beyond to make sure your refrigerator repairs are done right the first time. Save yourself the cost of purchasing a new refrigerator and the stress, mess, and expense of tons of spoiled food: When you're experiencing problems with your fridge, call the experts at Wagner Appliance Repair Service today.
Emphasizing customer care as well as great refrigerator repairs, we offer quality customer service in addition to expert workmanship. That means we provide emergency services and on-time arrival for all refrigerator repairs. At Wagner Appliance Repair Service, we strive to bring you the best quality repairs that last! So whether your fridge is cooling too much or not enough, we're here to help.
Wagner Appliance Repair Service provides both refrigerator and freezer repair, making us your one-stop shop for complete refrigeration repair services. Whether you need a new compressor, replacement door gasket, or repair for a broken-down ice maker, our refrigerator repair experts can help. We'll put our over two decades of experience to work to quickly troubleshoot and diagnose the source of the problem. Once we know the cause of the issue, we will develop a custom plan for completing the necessary refrigerator repairs that will get you back on your feet and have your unit restored to full functionality as quickly as possible. Let us help keep your refrigerator and freezer in peak working condition. Call now to schedule your refrigerator repair appointment.
Wagner Appliance Repair Service is EPA-certified for refrigerant recovery. Have questions? Just give us a call or send us an e-mail. Our refrigeration repair specialists are happy to help.